Selma van de Perre, neé Velleman, was born in the Netherlands on 7 June, 1922. She was the child of liberal Jewish parents, had three siblings and lived in Amsterdam.
In 1942, two years after the Germans first occupied the Netherlands, and news of persecutions and arrests of Jewish families increased, Selma decided to go into hiding. She was able to find shelter with various relatives and friends first, and then moved to the university city of Leiden that same year. There she was taken in by Antje Holthuis, a friend and qualified doctor. Selma noticed that doctors met there quite often, but initially she had no clue that this was an established resistance movement. At the beginning she was helping without being aware of it, conveying resistance reports to a professor. At a meeting she found out that this was a resistance movement, and willingly offered her help. Primarily, this resistance helped Jewish families to go into hiding. Mostly, they found shelter at Christian family homes. Selma thought this work was exemplary and decided to join the group.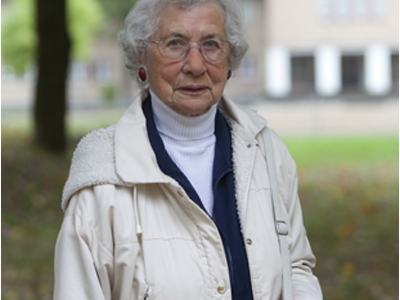 She later worked in the house of another resistance fighter in Haarlem in which some Jewish families were hiding as well. From the people in the resistance there she learned how to work with stamp and ink with regard to forging seals and the like for passports. During this time she continued to live with Antje Holthuis in Leiden and took the train to Haarlem. Selma was the first to obtain a document from official offices that gave her a new, non-Jewish identity. She also supported the group through courier work – for instance she delivered letters and reports of resistance meetings, for example to a priest in the south of Holland or to a factory director in Belgium. Once she even traveled to Paris. On her trips through the Netherlands, she delivered monthly fliers, money and food stamps to the resistance.
The resistance organized a room for her in Utrecht in 1944. This town is located at the center of Holland, and all Dutch trains passed through it – a perfect starting location for courier work. Here she was eventually arrested at a visit to comrades. She was taken to the prison in Amsterdam, where she was interrogated. Her true identity had not yet been discovered.
Shortly after, she was deported to the KZ Vught. Along with other women, she was transported from there to Ravensbrueck on 8 September 1944. As the camp was already overcrowded, newcomers had to sleep in tents or under the open sky on the first night.
A short time later she entered the main camp of the KZ, where she was violently abused. After she recuperated, she volunteered for work in the production halls of Siemens & Halske AG as it was known that conditions were better there. The supervisor of her work detail, Herr Seefeld, noted her good work and so she was soon given a post as his assistant. The Siemens employee treated the workers well and helped Selma in emergencies, but she still felt threatened, exploited and had no hope of being released into freedom again. In other Siemens halls, other Siemens employees were often terrible according to Selma's reports.
After 8 months of fear and hard labor, she was liberated by the >Swedish Red Cross on 23 April 1945 and brought to Denmark. In a transit camp the sick were treated and the victims were given plenty of food. After a few hours, the liberated were put on a ship and brought to Malmö in Sweden. Here their prisoner's garb was burned and they received new clothing. From Malmö they continued on to Gothenburg, where Selma heard of the end of the war on the 5th of May. She ended up in Stockholm, where she helped care for the sick by translating between doctors and patients and taking on administrative tasks.
Four months later she was able to return home, where she first found shelter with a friend from school days. After a few weeks, the War Office called on her to go to London to work in the medical services there. The posting was probably initiated by her brother. Through a friend she got a post in the radio department of the BBC, where she continued to work for eight years and would meet her future husband. During her work for BBC radio, she fulfilled an earlier dream of hers to study anthropology and sociology. Thanks to a scholarship, she was able to study the last two years full time. After her studies, she decided to become a teacher because she liked the variety of subjects and fields. As she had had very good results in a number of subjects including mathematics on her school qualification in 1941, she was also asked to teach maths alongside sociology at a grammar school.
After the death of her husband, the journalist Hugo van de Perre, Selma took over his post as foreign correspondent for Great Britain in 1979 and also contributed articles on cultural topics. Beginning in the late 1990s, Selma worked as a journalist for the Dutch magazines Televizier and Avro Bode as well as for newspapers such as Het Volk and De Nieuwe Gids (both from Belgium). Today she is actively involved and very engaged in dealing with and coming to terms with the past of forced labor. Her activities include regular guest appearances at the Generation Forum for the memorial site at Ravensbrueck. Every year, she addresses student teacher classes and talks to them about the events at Ravensbrueck. Also annually, on the 5th of May, Selma is invited to the memorial service for the liberation of Holland. There, on the Amsterdam Square "Dam", she lays down an official wreath for the women of Ravensbrueck at the national monument. In this capacity, she was also presented to the former Queen of the Netherlands, Beatrix. In 2015, she had the opportunity of being introduced to King Willem Alexander and his wife.