Leon Henry Schwarzbaum was born in Hamburg-Altona on 20 February 1921. In 1923, the Schwarzbaun family moved to the small town of Bendzin in Upper Silesia, which at the time had one of the largest Jewish communities in what was then Poland. His parents ran a business that manufactured eiderdown duvets and quilts. Henry visited the local Fuerstenberg grammar school, founded by his uncle, and obtained his final school diploma there in 1939.
After the invasion by Germany, his parents' business was confiscated. They were driven out of their home too and moved into the ghetto on the outskirts of town which the occupiers had established. In August 1943, the ghetto was cleared, and Henry's parents, his uncles and aunts were arrested, deported to Auschwitz and murdered in the gas chambers on the same day. Henry fled to a neighboring town, was captured there by the SS and also taken to Auschwitz, which was only 50 kilometers away.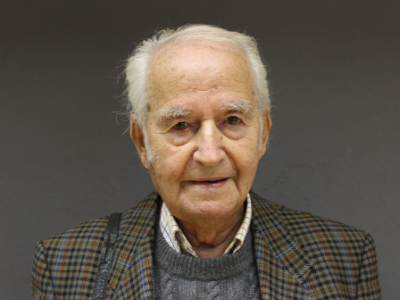 *1923
Leon Henry Schwarzbaum
In order to survive Henry had to evade the daily selections. An inmate told him that this was only possible if you had some sort of function in the camp. Henry started off as a "runner", a person conveying messages within the camp. He had to witness the daily horrors of Auschwitz, hoping every day anew to escape the selections. At the end of 1943, the Siemens-Schuckertwerke company needed forced laborers for a production facility near the concentration camp Bobrek,and they cooperated with the SS in this. Henry Schwarzbaum heard of this recruitment drive in Auschwitz, and with the help of Siemens staff, he managed to get recruited as a forced laborer in the external camp Bobrek. Henry was involved in the set-up of the facility, and production started in May 1944. He was in the warehouse responsible for giving out tool parts and equipment.
After the camp at Auschwitz and the production facility in Bobrek were cleared out in January 1945, Henry was first transported to Buchenwald, before he and 88 other inmates were taken to the external camp »Haselhorst« of Sachsenhausen in Berlin-Siemensstadt in February 1945. Here to, he had to do forced labor for Siemens. When the camp in Berlin-Siemenstadt was bombarded on 28th March 1945, Henry and the other prisoners were taken to Sachsenhausen and from here, they were sent on a death-march in April 1945. Just outside the city of Schwerin, he and other inmates of the KZ Sachsenhausen who had survived the death-march, were liberated by an American unit.
After his liberation Henry Schwarzbaum tried to find parts of his family in Poland, but to no avail. Along with comrades and friends, and with no learned profession, Henry decided on a new start in Berlin and this is where he would meet his future wife. The two managed to establish an antique shop at Wittenbergplatz which Henry ran until his retirement. Since then, Leon Henry Schwarzbaum has been telling his story and giving a great contribution to the memory and to dealing with the injustice of that time. He last did this in the first half of 2016 as a joint plaintiff in a court case against the former Auschwitz guard August Hanning.
Bobrek – satellite camp of the KZ Auschwitz
Henry Schwarzbaum was selected by Siemens staff in Auschwitz for forced labor in the facility Siemens-Schuckertwerke in Bobrek. Bobrek is located about 10 kilometers from Auschwitz on the banks of the river Weichsel.
Along with other inmates, Henry Schwarzbaum belonged to a group of forced laborers who had to repair the factory hall of an old brickyard from December 1943. Production commenced in May 1944, and they had to manufacture electronic armatures for airplanes and u-boats.
Living conditions here were far better than in the main camp, but for the survivors it was the protection from the selections and the terror of the SS that made the biggest difference – this was a necessary condition for the preservation of their work force and for a work atmosphere that allowed them to do the precision tasks they were made to do. The satellite camp of Bobrek was dissolved on 19 January 1945.
Henry Schwarzbaum told us about his labor in Bobrek:
"At Siemens it wasn't so bad – there were no selections – and that was the most important thing. Hygiene, food and treatment were also better here. Women too, were in the camp, though of course not in the same barracks. 250 boys and 30 women – including Simone Veil, a wonderfully pretty girl, were in this commando. The girls worked in the kitchen and in the office. The men first had to repair the house, taking off the old roof – sitting only on a plank of wood, constantly in fear that it might break – but it went alright.
Then the new roof and the machines arrived from Berlin, and work started. We didn't know exactly what we were making, only that it was parts for airplanes and u-boats. I worked in the magazine, handing out the required tools and equipment. Initially I was a Galvani-technician – I had learned this skill in Bendzin.
In Auschwitz I thought that Siemens might need people) such as Galvani-technicians – that is why I made myself known to them. There was no test – they didn't need a Galvani-technician – but they took me on anyway.
A workday lasted from 8am to 6pm – six days a week. So there was a free day, on which you could talk with one another. Outside the factory there was this old car wreck, in which a friend and I often sat down in. The snow would fall lightly, and the friend would show me how a car works. We talked, for example about where the war front was. We could see that the war could be coming to an end, after Stalingrad it became clear that the Germans had lost the war, and we had hopes of survival.
There were no punishments at Siemens – only work – and you had to work well. Since you were treated well, you worked well – you wanted to survive. I don't know of any case in which someone was punished for bad work. There were foremen and master craftsmen working alongside the forced laborers, overseeing and instructing.
Of the Siemens commando, everyone survived, apart from one man who fell off a ladder and was taken back to the big camp (Auschwitz)."
Excerpt from a video interviwe in September 2015, Project siemens@ravensbrück 2015.
Bobrek – Forced labor for Siemens near Auschwitz
In the camp Bobrek, near Auschwitz, the Siemens-Schuckertwerke company ran a machine tool factory from 1943 to 1945, in which about 200 KZ prisoners from Auschwitz worked. Henry Schwarzbaum was one of them. See below for some images of the camp. Photos shown with kind permission by Leon Henry Schwarzbaum.