Charlotte Kroll, neé Goerner, was born in the town of Freital in Saxony on 6th of March 1922. She was the oldest of three siblings and grew up in a comfortable home enjoying many freedoms as a child. In 1941 – when Charlotte was 19 years of age – she gave birth to her daughter. Shortly after, she married her husband and moved to Hamburg. However, when he was drafted into the Wehrmacht, so Charlotte moved back to her parents.
In 1942 she began to work in an arms factory, while her daughter stayed with her grandparents. It was her duty to train the female Russian forced laborers. At one point, she gave one of these women some old clothing of her daughters. She was arrested one day later.
Charlotte spent two days in Freital Prison, after which she was transferred to prison in Dresden, where she was incarcerated for one year until 1943.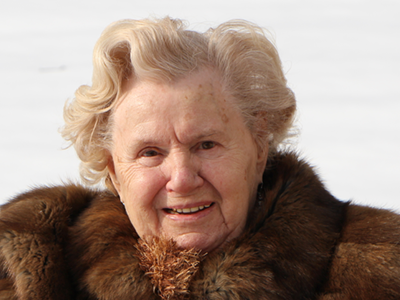 In the summer of 1943 she was transported to Ravensbruck. On arrival, her head was shorn and all personal belongings were taken from her. It was only upon seeing the emaciated women in the camp that she began to understand what was in store for her. She was forced to work in the camp's sewing room, where she was maltreated by the female guards until, after a short while, she was transferred to Siemens. Here she had to adjust machines and continued to be beaten and abused for unfathomable reasons by guards. Charlotte and her inmates secretly tried to sabotage production by adjusting machines and tools incorrectly. In the year that she spent at Siemens, Charlotte made a friend that she shared her bread with. The two women helped each other and gave each other support and comfort. Charlotte at times managed to have contact with other inmates. From a Jehovah's Witness, she heard that they were given blood sausage every Saturday along with their bread. As Jehovah's Witnesses do not eat blood sausage and discarded them often, Charlotte was able to obtain some from them from time to time. She had to hide this carefully though – otherwise she would have been beaten to death.
In the summer of 1944, she was surprisingly released from Ravensbruck. They returned her clothing and she boarded a train back home. Her marriage had been automatically annulled during her time in prison, and her daughter had been put into a children's home. It was only in later years that Charlotte realized that she had been thrown into prison because of her gift to the Russian slave labourer.
In 1945 she moved to Hamburg, remarried and got an apartment, and was reunited with her daughter. She had a second daughter in 1950 but divorced from her husband a short time after. She moved – now with two daughters – back to her parents in Freital.
Before the building of the Berlin Wall she moved to West Berlin. It was only in 1998 that she received some monetary compensation from Siemens. In 2010, Charlotte was awarded a medal of honor as a contemporary witness by the state of Brandenburg, and in 2014 received a "Medal for Services to Society" by the German state.
Charlotte Kroll died on December 13th, 2016.